About Ben
My name is Benjamin Elder, though I am frequently known as Ben / BenTheElder. I enjoy hiking, gaming, and building things. I love my wife and my dog. I want machines to help people do more and focus on what really matters.
I am an open source software developer. I help maintain Kubernetes – particularly build, test, release, project infrastructure … through which I hope to improve the developer and contributor experience. To that end KIND is my favorite and probably my most popular project. I love working with the community.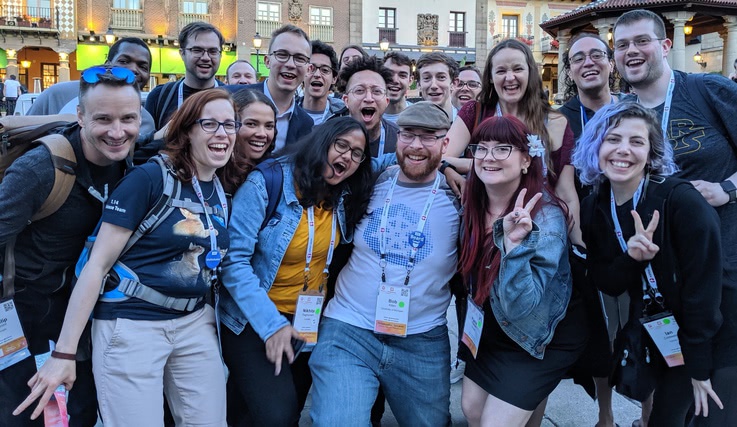 Experience
I am currently a Senior Software Engineer at Google on Kubernetes Engineering.
Below is a timeline highlighting some notable moments in my career.
August 2022
Senior Software Engineer, Kubernetes Engineering, Google
After 5+ years of work on
GKE
/ Kubernetes
Engineering Productivity
teams I transferred to a new role on Kubernetes Engineering under GKE Engineering to focus more on Kubernetes core.
November 2020
This award recognizes excellence in technical contributions to CNCF and its hosted projects. The CNCF Top Committer has made key commits to projects and, more importantly, contributes in a way that benefits the project as a whole. CNCF Maintainers (committers) voted for the Top Committer [...]
Previous Winners:
Fabian Reinartz
(2016),
Tim Hockin
(2016),
Clayton Coleman
(2017),
Jordan Liggitt
(2018),
Frederic Branczyk
(2019)
October 2020
Promoted to Senior Software Engineer, Google
May 2020
I was nominated for and took on a Co-Chair role in the Kubernetes Testing Special Interest Group along with
Aaron Crickenberger
and
Steve Kuznetsov
. SIG Testing owns the infrastructure, frameworks, and tools used to test the Kubernetes project (amongst others).
April 2020
Team Lead, Kubernetes Engineering Productivity, Google
After our previous Team / Tech Lead moved on to another opportunity I stepped into the semi-official lead role on the Kubernetes subteam of GKE Engineering Productivity.
October 2018
Promoted to Software Engineer III, Google
For work like creating
KIND
, amongst other things.
July 2017
Software Engineer II, Google
May 2017
With "
threads
" (specialization) in "
Intelligence
" (Machine Learning) and "
Devices
" (hardware/software, robotics, embedded etc.). I studied Electrical Engineering before switching to Computer Science.
May 2015
Implemented
iptables
kube-proxy
proxier mode under
Tim Hockin
's mentorship while taking summer classes at Georgia Tech. This is still the default mode
since v1.2
and widely used by most Kubernetes clusters.
Speaking
I'm a novice speaker with a few KubeCon talks and a couple of smaller internal (company) talks under my belt. My public speaking is listed here.
Open Source Productivity Day on Google Open Source Live
In October 2021 I gave a short talk about testing Kubernetes with KIND and Kubetest2 with my colleauge Amit Watve for Google Open Source Live's Open Source Productivity Day.
In my opinion this was unfortunately not some of my best speaking as I was distracted by a family emergency the day of recording. The KubeCon talks below are better.
KubeCon NA 2019
I gave one talk and ran a workshop at KubeCon NA 2019. I also anchored a table at a mentoring session and represented Kubernetes SIG Testing and WG K8s Infra at the Kubernetes Contributor Summit Meet & Greet.
Deep Dive: KIND - Benjamin Elder & Antonio Ojea
We spoke about KIND internals and the challenges ahead on the road to 1.0.
A Kind Workflow for Contributing to Kubernetes - Benjamin Elder & Duffie Cooley & James Munnelly & Patrick Lang
We ran a hands on tutorial for contributing and testing your Kubernetes code with KIND.
This is one of my favorites. 462 people registered as attending this workshop! I really enjoyed going around helping people get through the workshop instead of speaking for most of the session. Hopefully many of them learned something about contributing to Kubernetes and using KIND.
KIND on The Kubernetes Podcast
I spoke with Craig Box and Adam Glick on the Kubernetes Podcast about KIND.
Episode #69 – kind, with Ben Elder
KubeCon EU 2019
I gave two talks at KubeCon EU 2019 and participated as a mentor in one of the mentoring sessions, I also held a Kubernetes Contributor Summit Session on KIND (voted for / requested at the summit).
Testing your K8s apps with KIND - Benjamin Elder & James Munnelly
We spoke about KIND and testing your Kubernetes Applications.
I was pretty jet-lagged for this talk but I was blown away by the response. I really enjoyed this talk and the Q&A, and I love working with my good friend James Munnelly.
Deep Dive: Testing SIG - Benjamin Elder & James Munnelly
We spoke about KIND and how we use it to test Kubernetes for the SIG Testing Deep Dive.
KubeCon NA 2018
I gave one talk at KubeCon NA 2018 and ran a Kubernetes Contributor Summit session on KIND (voted for / requested at the summit).
Behind Your PR: How Kubernetes Uses Kubernetes to Run Kubernetes CI - Sen Lu & Benjamin Elder
I spoke with Sen Lu about The Kubernetes Project's testing tools and infrastructure, including a brief discussion of KIND and running it on Kubernetes's Kubernetes-based CI infrastructure.